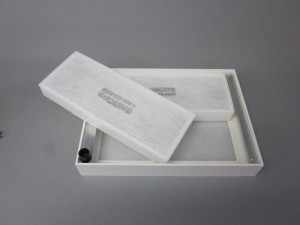 The RHiser© is an archival museum exhibit block that holds silica gel for cases that don't have internal desiccant chambers. It can also be turned on its edge to serve as a backdrop.
We offer the RHiser© in powdercoated aluminum or wrapped with archival linen. Linen-wrapped RHisers may include a layer of dense ethafoam for pinning, or drillable HDPE for mounting.
RHisers are made to accept SmallCorp silica gel cartridges.
We do not have standard sizes – all RHisers are made to your specifications.