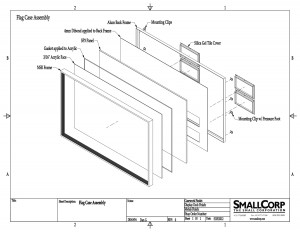 The Pressure Mount Textile Case is designed for pressure-mounting textiles, like flags. It is a sealed, archival system with silica gel access doors and a pressure regulation bladder. First, press your textile or object against the acrylic glazing. Then, lock the backing panel into position from behind to create tension. While we offer standard designs, we do not have standard sizes. We manufacture each case to your size requirements.
Archival materials
We use only inert materials for these cases. The materials will not off-gas or otherwise damage your objects, and the case has microclimate capability. This means you can maintain a Relative Humidity inside the case that is different than that of the surrounding area. Pressure Mount Textile Cases typically have an air exchange rate between .75 and .5/day. We offer an optional external port that allows access to the silica gel chamber without the need to move your objects.
Glazing
We offer clear, UV-filtering and Optium Museum Acrylic glazing on these cases.
Compare SmallCorp's Wall Cases